Professional supports are offering Video based Health education and Training programs in association with NEVCO Education in Florida USA. These programs are suitable for grass root levels and also for professionals as continuing education in several areas such as Infection control, HIV/AID, Alzheimer's, Diabetes, Fall prevention, Health and safety in works place, wound management and many more as shown in catalog.

These training programs are suitable for grass roots and for continuing education. These programs are already certified by State of Florida USA. Nevco is now in the process of getting the national accreditation from the American; Nurses Credentialing Center. ANCC is the world's largest and most prestigious nurse credentialing Organization and a subsidiary of the American Nurses Association (ANA).
NEVCO is certified by the by the U.S.Department of Commerce and also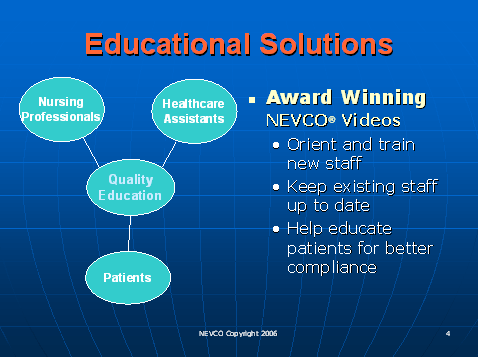 The Associated Home Health Industries of Florida, USA who have actually utilized these programs and found them highly beneficial.


NEVCO Health Education Programs:
We are offering Video based Health training programs in collaboration with NEVCO Education. USA