Media Reports
NATIONAL
NEW DELHI, September 26, 2013
UGC puts foreign university collaborations regulations in public domain
While the Regulations were approved on May 27, these were put on the UGC website on Wednesday.
According to the Regulations, Indian institutes with grade B accreditation can now also enter into collaboration with foreign institutions which should mandatorily have the highest grade of accreditation in its parent country.
A notification issued by the UGC said: "At the time for agreement for collaboration, Indian educational institution shall have accreditation by National Assessment and Accreditation Council with a grade not less than B or its equivalent grade," the notification said.
Foreign collaboration with Indian institutions would enable these institutes improve quality. Indian educational institutions already having a collaborative arrangement shall comply with these regulations within six months, the notification said.
Indian institutes collaborating with foreign institutes should have experience of at least five years offering educational programmes at the level of degree and post graduate diplomas. But universities and institutions run by the Centre, State and Union Territories have been exempted from mandatory accreditation and five years experience of granting degrees and diplomas.
Violations of the rules could lead to termination of the MoU entered into for collaboration.
Technical institutes would not come under the purview of the regulations while government institutes shall be exempted from accreditation for the purpose of these regulations.
Statistics reveal that presently about 50 foreign institutes are operating in India through twinning arrangement. Twinning programmes not only promise an international degree but an exposure to foreign campuses.
All institutes (Indian and foreign) involved in collaborations should make public the academic requirements and other details of the programme in respective websites before commencement of the programme by Indian educational institute concerned.
No programme and research shall be offered which is against national security



---
Foreign varsities get independent access to India
Foreign universities can now set up campuses and offer degrees in India without having a local partner
Prashant K. Nanda

First Published: Tue, Sep 10 2013. 01 53 PM IST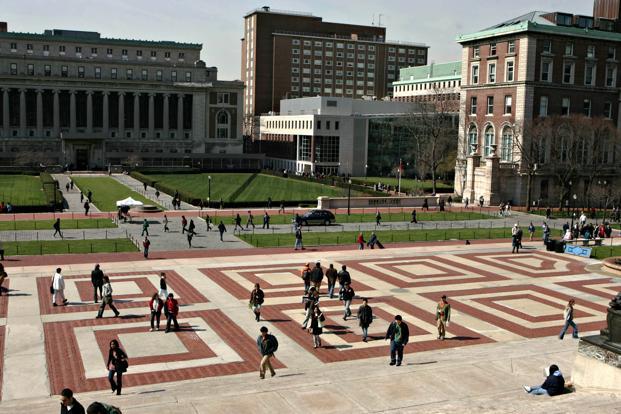 Currently, a foreign university needs to join hands with a local education provider to offer courses in India and the degrees are not considered foreign degrees. Photo: Bloomberg

Updated: Tue, Sep 10 2013. 11 24 PM IST

New Delhi: The government has decided to allow foreign universities to operate independently in India, set up campuses and offer degrees without having a local partner—a move that finally opens the gates for foreign educational institutions seeking to establish a presence in the country.
To foreign universities, the move presents an opportunity to tap a country with a population of 1.2 billion. To Indians (at least those who can afford it), it is an opportunity to receive quality education without leaving India (and without paying in dollars). And to India, it could mean significant foreign direct investment.
The department of industrial policy and promotion (DIPP) and the department of economic affairs (DEA) have agreed to allow overseas universities to operate as so-called Section 25 or non-profit companies under the newly passed Companies Act, the human resource development (HRD) ministry said on Tuesday.

Companies registered under Section 25 of India's Companies Act cannot distribute profit or dividends to members, which means that the foreign universities cannot repatriate money—a constraint that was criticised by at least one expert.

Several foreign universities have been keen to enter India to tap a higher educational market that is worth Rs.46,200 crore and expanding by 18% every year, according to 40 million by 2020, a report from audit and consulting firm EY. They have been constrained by the need to do so through partnerships.
The Foreign Education Providers' Bill is still awaiting parliamentary approval. Tuesday's announcement, which is effectively an executive order, doesn't need to be approved by Parliament and could see a rush of foreign universities to enter India.

"The ministry had sought comments and observations of the department of industrial policy and promotion and the department of economic affairs on the rules. Both DIPP and DEA have supported the proposal," the HRD ministry said in a statement on Tuesday.

Ministry officials said that the details are being vetted by the law ministry and an official notification will be published soon.

With the powers vested in it through the University Grants Commission (UGC) Act, the ministry will allow foreign universities to set up campuses in India and award foreign degrees. Currently, a foreign university needs to join hands with a local education provider to offer courses and the degrees are not considered foreign degrees.

Under the proposed rules, foreign universities can set up campuses in India once they have been notified as 'foreign education provider' by UGC. An educational institution wishing to operate in India needs to be in the top 400 in one of three global rankings: the UK-based Times Higher Education Ranking; Quacquarelli Symonds ranking published in UK again; and the China-based Shanghai Jiao Tong University rankings.

An HRD ministry official said that at least 20 foreign universities—mostly from US, followed by Australia and Canada—have expressed their desire to enter the market.

"Universities such as Duke University, California Institute of Technology (Caltech) and VirginiaTech are some of the names that have shown interest," said the official, who asked not to be identified.

Mint could not independently verify this. In September 2012, the University of Chicago Booth School of Business' deputy dean Robert H. Gertner told Mint that the school was exploring opportunities to open an executive education centre in India.

The degrees awarded by foreign universities in India will be considered foreign degrees and students holding these degrees need to get an equivalence certificate from the Association of Indian Universities (AIU), the HRD ministry said in its statement. These universities will also function under the UGC rules.
The profit motive

A foreign university cannot repatriate money that it makes in India. And any university seeking entry to India must be accredited by bodies in its home country. "Quality control is key and we will build the safeguard mechanism with each of the universities," a second official in the HRD ministry said.
An expert was critical of these provisions. "On the one hand you are saying, we want top 400 institutes to come and on the other, you are not allowing them to repatriate surplus to the home campus. It's a fundamental problem. I think there is still an inherent trust deficit between the government and the (foreign) educational institutes," said Pramath Sinha, founding dean of the Indian School of Business, Hyderabad.

"They have to stop questioning everybody, at least the best of the institutes. This problem was there in the Bill and if they are retaining it in the executive order, it will be a huge drag," added Sinha, who is setting up a liberal arts university, India's first, in Haryana.

The two HRD ministry officials said enough changes have been made to make it attractive for foreign universities to enter India. The India campus will function as a branch campus of the parent, rather than as an independent campus. The universities will offer the same degree they are offering in their parent campus. And the ministry has reduced the deposit universities have to maintain with the ministry (and which they will forfeit in case of any violation) from Rs.50 crore to Rs.25 crore.

To be sure, it will not be easy for foreign universities to acquire land, especially in the context of India's new land acquisition law. "We will not facilitate the university in getting land at a concession. Anyway, procuring land and other infrastructural facilities in India will be way cheaper than in developed countries," said the first ministry official.

He added that there were still three things that would attract foreign universities to India: a huge education market and the young demography to grow that further; lower recruitment and research costs; and the opportunity to offer executive education programmes and consulting services to Indian companies.
The second official grandiosely described the ministry's move as "liberalizing the higher education space the way India economy was liberalized between 1991 and 1993".

Manish Sabharwal, the chief executive of staffing and training company TeamLease Services Pvt. Ltd, said that India remains an attractive destination for education. In many countries there are two problems, he added—demography and cost—but in India both the issues are in the right place. The problem, he said, is in the details.

Anton Muscatelli, vice-chancellor of the UK-based University of Glasgow, too stressed the importance of details. The Indian government's willingness to allow universities to come into India should certainly boost the entry of foreign universities, but the details will be important, he said. His own university, he added, has several partnerships in India and will continue to work with strong Indian partners.
Once it is notified, the ministry's order will render irrelevant the Foreign Educational Institutions (Regulation of Entry and Operations) Bill 2010, a brainchild of former HRD minister Kapil Sibal, who is currently in charge of the telecom and law ministries.

Dual degrees with foreign univs get nod
June 3, 2012
NEW DELHI: Pursuing a course from any of the world's top universities — such as Harvard, Peking or Oxford — while being in India will soon be a reality.
The University Grants Commission (UGC), the country's higher education regulator, on Saturday allowed the world's top 500 universities to start dual degree courses with Indian higher education institutes.
Only Indian institutes with the highest rating from the National Board for Accreditation or the National Assessment and Accreditation Council would be allowed to start the courses.
They would be able to tie up with any of the top 500 foreign education providers listed in the Time Higher Education Supplement or Shanghai Ranking Consultancy.
"The Indian education providers will be free to choose their foreign partners," UGC acting chairperson Ved Prakash said.
The fee and course structure would be decided by the two collaborating universities.
The UGC gave six months to higher education institutes in India running courses of foreign universities to meet the new regulatory framework. "Institutions not meeting regulations will face action," Prakash told HT. According to the new rules, private institutions would be derecognised and public sector institutions denied government funds if they fail to meet the regulations. Many institutions, such as Delhi University, offer courses where a part of the course is taught in India and the remaining in the foreign university.
The decision to allow dual degree courses comes a few weeks before HRD minister Kapil Sibal is expected to participate in the Indo-US Higher Education Summit, where heads of top Indian and foreign universities are expected to participate.
The UGC, however, deferred taking any decision on allowing foreign education providers to set up campuses in India as it requires consultation with other ministries.
Brunel wins 2011 National Placement and Internship Award

26 Jan 2011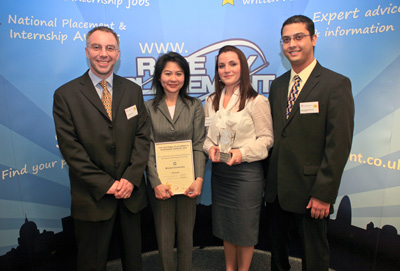 Placement and Careers staff collect their award at the Rate My Placement awards ceremony.
Brunel University has won yet another accolade at the National Placement and Internship Awards, sponsored by ratemyplacement.co.uk.

The Placement and Careers Centre (PCC) picked up the award for 'University with a Forward Thinking Attitude to Work-Based Learning' for their exceptional support for students seeking work placements, part-time work and careers advice. This is the second award the PCC has won at the annual awards show, with the team also picking up the 'Best Placement Service' award in 2010.

The PCC works incredibly hard to ensure that Brunel students have access to the best possible placement and career opportunities and has introduced a number of new initiatives in the last few years, including a bursary scheme for students on non-paying placements, student job-shares, and even a smartphone app to put part-time and graduate job adverts at students' fingertips.

Announcing the award, co-founder of Rate My Placement Oliver Sidwell said: "Brunel University's contemporary approach to work-based learning was described by the judges as 'amazing'. They go miles beyond the call of duty and offer an integrated service providing a one-stop shop for all students. Their extensive use of social media also demonstrates a real understanding of the student audience."

Michelle Kavan, Deputy Director (Placement), added: "Within PCC we continually strive to change, improve and innovate and I think that this award highlights this. We are also proud that our Placement Assistant, Mo Rahman, won a special commendation in the 'University Personality of the year' category for showing outstanding support to students and employers."
This award celebrates the initiatives and innovations carried out by UK universities and departments in promoting the value of work based learning to students and employers. Nominations for the award were open both to students and employers, as well as entries from the universities themselves. Winning universities are selected by the judging panel based on the case studies submitted.
---
Foreign university bill gets Cabinet nod
Mon, Mar 15 12:49 PM
New Delhi, Mar 15 (PTI) Government today approved a bill to allow foreign education providers set up campuses in India and offer degrees. The Foreign Educational Institution (Regulation of Entry and Operation) Bill, 2010, was cleared by the Union Cabinet presided by Prime Minister Manmohan Singh.
This paves way for its introduction in Parliament. "This is a milestone which will enhance choices, increase competition and benchmark quality," HRD Minister Kapil Sibal said after the approval of the bill by Cabinet.
The bill seeks to regulate the entry and operation of foreign institutions, which will set up centre and offer degrees in India. This bill was hanging fire for over last four years owing to opposition from various quarters, including the Left parties, over certain provisions.
Last year, it was referred to a Committee of Secretaries which brought modifications to certain provisions earlier existed. The bill was approved by the Cabinet without any change today.
The proposed law prescribes eight-month time bound format for granting approval to foreign educational institutions to set up campuses. They will go through different levels of registration process during this period and will be finally registered with UGC or any other regulatory body in place.
---
India Today
Why foreign institutes dig Indian market
Thu, Mar 18 03:04 PM
For foreign universities, which haven't yet recovered fully from the aftershocks of the worldwide recession, India presents, to quote a word re-introduced into the English vocabulary by Tim Burton's Alice in Wonderland , a 'frabjous' opportunity.
More than 100,000 students leave Indian shores annually to study at universities abroad. Their presence has made foreign universities wake up to the incontrovertible fact that there's another 'creamy layer' below these students abroad whose families are prepared to pay upwards of Rs 2.5 lakh a year for quality education.
Profs debate Foreign Univ Bill
What foreign universities Bill can't do
International students are the economic mainstay of foreign universities, but these institutions are not in a position to meet the demand for the education they provide on their own campuses back home. This untapped market makes the business of overseas campuses that much more lucrative.
For over a decade, foreign universities have been lobbying hard for the passage of the Foreign Education Providers Bill, which has been a pet project of HRD minister Kapil Sibal. The most recent of these exploratory visits was that of Robert A. Brown, president of Boston University, who was in the Capital in January to plan collaborations with leading universities here.
He said there was an insatiable appetite for quality education in India and collaborations would mutually benefit both countries. US's Georgia Institute of Technology announced its plan to set up campuses in Hyderabad and Visakhapatnam as soon as the Bill gets Parliament nod.
Central Michigan University, meanwhile, has taken another route to plant its flag in India. It has been offering a collaborative MBA programme with the Jawaharlal Nehru Institute of Technology, Hyderabad, for the past five years.
Experts associated with these universities explain the economic logic of their plans for India: the proliferation of private institutions in the country-especially in engineering, medicine, management and law - that charged fees upwards of Rs 2.5 lakh a year was evidence of the vast market waiting to be tapped.
These institutions attract the second layer of the country's higher education market. These are students whose families can't afford foreign education (upwards of Rs 15 lakh a year), but want to be in the top four favourite streams.
India, according the now-defunct National Knowledge Commission, needs 1,500 universities, compared with about 350 now, to raise the enrollment numbers from 7 per cent of the population aged 18-25 to developed country averages.
But even before the Bill got the cabinet's nod, Indian universities had initiated the process of collaborating with their international peers to offer degrees or diplomas. A National University of Educational Planning and Administration (NEPA) report in 2008 pegged the number of these institutions at more than 130.
For Bangalore University vice- chancellor A. N. Prabhu Deva, collaboration is the way forward.
"It will help a higher education institution rise to the standards of its foreign partner," he says. But for this collaboration to become meaningful, says R. Govinda, NEPA V-C, teaching must go hand in hand with research. "Only then will quality education and foreign collaborations be meaningful," he says.
Either way, for foreign universities, this is a winwin situation. Narayanan Ramaswamy, executive director of the management consultancy KPMG, points to the "massive demand supply gap" driving the international higher education market.
Reproduced From Mail Today. Copyright 2010. MTNPL. All rights reserved.
---
Role and challenges of foreign Universities in India
Some of the media reports on Foreign Universities dealing with issues of acceptance and meeting regulatory measures are given hereunder:
Allow foreign varsities on Chinese model

Rajeev Ranjan Roy | New Delhi
Plan panel tells HRD, PMO

The Indian Left leaders and their model of economic growth might not appeal Planning Commission vice-chairman Montek Singh Ahluwalia, but he wants that Indian doors be opened for foreign universities a la China.
Ahluwalia is so impressed by the way the world's largest Communist regime has allowed the entry of foreign universities, his crisp but powerful advisory to the Centre and Union Human Resource Development Minister Arjun Singh is-'Learn from China in this regard.'
According to sources, the HRD Ministry is going through the nitty-gritty of 'suggestions and targets' set by the Plan panel for higher education in the 11th Five-Year Plan. It was one of the major points of focus in Ahluwalia's presentation to Prime Minister Manmohan Singh on the roadmap of higher education in the coming five years.
Ahluwalia's 'China model advice' comes at a time when the Left leaders are not willing to budge from their stated stand to oppose the entry of foreign universities in India. CPI(M) MP and Polit Bureau member Brinda Karat recently wrote to the HRD Minister reiterating that her party was principally opposed to opening higher education sector to the foreign players.
Whether Plan panel chief's China centric advice has any mellowing effect on the Left remains to be seen, but the Centre seems to be working out strategies to facilitate their entry during the 11th Plan as reported by The Pioneer earlier.
In China, the foreign universities have to partner with the local institutions, and the partnerships do not intend to seek profit as their objective. This Chinese norm is in concurrence with the views of University Grants Commission (UGC), a statutory body under the HRD Ministry, that foreign universities should not eye India as a market, but should invest adequately to set up their own campuses.
Chinese provisions for foreign universities stipulate that half of the members of the governing body of the institution must be Chinese citizens and the post of president or the equivalent must be a Chinese citizen residing in China.
"In China, no foreign university can increase the fee without the prior approval of the authorities concerned. It is a very good provision and the Centre would certainly ensure the fee is not raised without approval of competent authority," a Ministry official said.
The suggestions of the Commission too seem to be along the Chinese lines. "In the 11th Plan, we should formulate a positive policy to encourage top class foreign universities and institutions to set up collaborative institutions in partnership with the public and private institutions. The collaboration between foreign and Indian universities should be encouraged," the Planning Commission has suggested.
The CNN Rao Committee on the entry of foreign universities had suggested the Government a two-pronged strategy. It was of the view that such universities should be allowed to operate for a limited period in the beginning, applying to all modes of operation right from franchisee agreements, twinning programmes, study centres, programme collaborations and offshore or branch campuses.
The committee was of the view that these universities should be allowed to further carry out their educational activities only if their performance was found to be satisfactory during this period, and only the universities accredited in their country of origin would be allowed to operate in India. At the same time, these universities should also help out Indian counterparts to start operations in their countries.
The HRD Ministry is, however, opposed to any hurried decisions on the entry of foreign universities on the pretext that only nations seeking Indian higher education door be opened are the US, the UK, Australia and Canada, where no other countries could intrude into their home territory.
"At the same time, it seems to be highly unlikely that top class Government universities would enter Indian higher education sector. The CNR Rao Committee on the entry of foreign universities too has advised the Government to adopt a cautious approach," a HRD Ministry official said.
Foreign univs won't have free ride here

URMI A GOSWAMI


TIMES NEWS NETWORK
[ THURSDAY, MAY 31, 2007 01:21:31 AM]

NEW DELHI: It's not likely to be a cakewalk for foreign universities of international repute such as Oxford, Harvard, Stanford, etc, when they try to set up their India operations.

Even though the proposed law regulating foreign education institutions gives universities of international repute the freedom to not observe domestic norms such as reservations for socially and educationally backward sections and the requirement of adhering to admission and fee norms, their entry into India may not be without conditions.

Though freed from the obligation of complying with Indian requirement of reservations and fee caps, the Regulation of Foreign University Entry and Operation (Maintenance of Quality and Prevention of Commercialisation) Bill, 2007, put in some financial riders for these universities.

The proposed law requires these universities to invest at least 51% of the capital expenditure required to set up their establishment in India. They will also be required to use surplus from the Indian operations exclusively for the growth and development of their education establishments in India.

The bill, which was slated to be introduced in the Budget session of Parliament, had to be put on hold because of opposition from the Left parties. If passed into law, all foreign institutes will have to be incorporated under Indian law, and will be given deemed to be university status.

This would permit them to grant admission and award degrees, diplomas or certificates. An expert committee comprising representatives of UGC and other statutory education councils like the AICTE and MCI will examine proposals from foreign education providers. This committee will have the power to decide which institutions will be exempted from fee control and national norms.

Operationally, the bill proposes to bring foreign education providers under the administrative umbrella of the UGC. Admission process and fee structure for these institutes will be regulated by the UGC. Since these foreign institutions will have to be incorporated under central or state laws, and be treated as deemed universities, they will also be subject to the government's policies of reservations.

The UGC will frame regulations that will provide for the incorporation of the foreign education provider. It will determine admission procedures and eligibility of candidates. The commission will also determine the period for which the foreign provider will be granted permission to operate in India. There will be a provision for renewal as well.

The bill proposes to allow only those foreign education institutions which are accredited in their country of origin and meet the standards set by UGC to operate under this proposed legislation. This will keep fly-by-night operators out, and only allow legitimate education providers to operate in India.